Bach Band: Digit — pmt-13-01 (Release: 21.11.2013)

Fenster zu // Close Window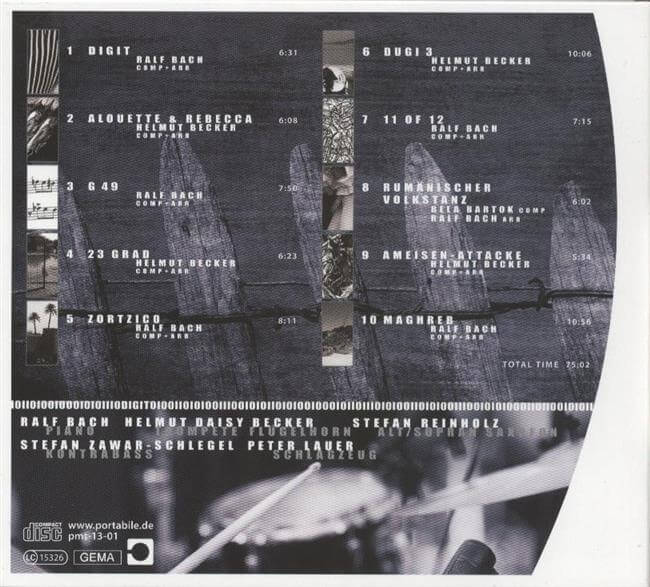 INFO: Sieben Jahre nach der ersten Bach Band-CD "Inquieto" liegt nun das zweite Album vor. Es enthält eine Auswahl der in dieser Zeit entstandenen Jazz-Kompositionen, stilistisch modal bis blue, geprägt von spanischer/latino bis maghrebinischer, rumänischer und französischer "Folklore". // This CD release comes seven years after the first Bach Band CD 'Inquieto'. It contains a selection of compositions of this period and is influenced by Spanish and Latin folcloristic elements.
CD: 10 Tracks · ~75'00'' · Digipak · 4 Seiten // 4 Pages farbig // colour
LINEUP: Helmut BECKER (tp, flh) · Stefan REINHOLZ (sax) · Ralf BACH (p) · Stefan ZAWAR-SCHLEGEL (b) · Peter LAUER (dr)
RECORDING, MIX & MASTERING: Guma Records, Saarbrücken
PRESSWERK // PRESS SHOP: CDA, Suhl
GRAFIK // ARTWORK: (Band) · Photos: Birgitte Buddig Thoma
RELEASEKONZERT // RELEASE CONCERT: 05.12.2013, Tufa, Trier
PRESSE // PRESS: Trierischer Volksfreund 03.12.2013: CD-Rezension // CD Review · Trierischer Volksfreund 04.12.2013: Vorankündigung CD-Release-Konzert // Announcment CD release concert
CD BABY:
Bach Band WWW
HÖRBEISPIELE // TEASER:
Hören // Listen