Thomas Bracht: unterwegs (feat. Nils Wogram) — pmt-15-01 (Release: 12.12.2015)

Fenster zu // Close Window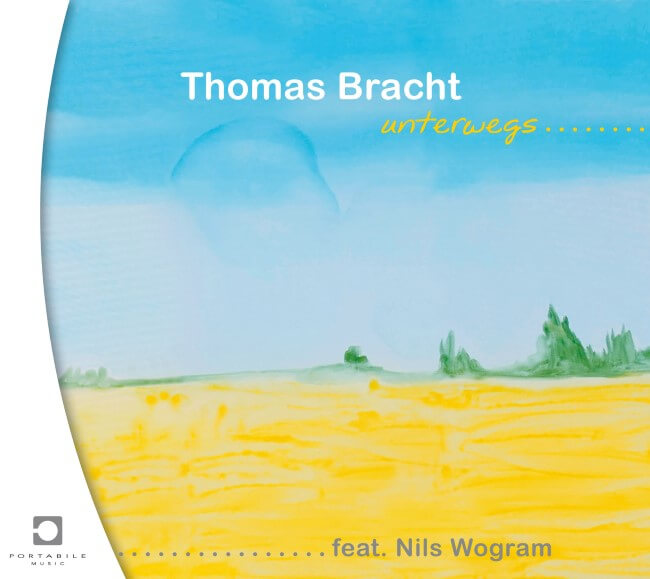 INFO: Long time no see: Thomas Bracht meldet sich musikalisch zurück und macht sich mit ein paar alten musikalischen Weggefährten auf die Waltz. // Thomas Bracht is back on stage and invited some good old friends to make some music with him.
CD: 9 Tracks · ~48'00'' · Digipak · 6 Seiten // 6 Pages farbig // colour
RECORDING, MIX & MASTER : TwinMusic, D-Heidweiler, Chris Simon
PRESSWERK // PRESS SHOP: CDA, Suhl
RELEASEKONZERT // RELEASE CONCERT: 17.12.2015, Tufa, Trier ⇒ Plakat // Poster
PRESSE // PRESS: Trierischer Volksfreund 11.12.2015: Vorankündigung // Announcment · Trierischer Volksfreund 14.12.2015: Vorankündigung // Announcment · Trierischer Volksfreund 09.01.2016: Rezension // Review: »Reise im Grenzbereich« · Glanzvoll Frühjahr 2016: Rezension // Review: »Grenzen überschreiten« · Saarbrücker Zeitung 30.04.2016: Rezension // Review: »Stil-Spiele lassen die Hüften kreisen« · JazzPodium 05/2016: Rezension // Review: »Zeitreise« · Magazin Köllefornia 21.06.2016: Rezension // Review: »unterwegs ... mit Thomas Bracht, Nils Wogram, Sven Decker u.a.« · jazzhalo.be 2016: Rezension // Review: »unterwegs« · kultur-online.net 12/2016: Rezension // Review: »Es ist voll Bracht!« · Trierischer Volksfreund 15.08.2017: Vorbericht // Pre-Review: »Wenn der Zug anrollt, ist es gut«
RADIO:
Feature 06.03.2016 Deutschlandradio Kultur - Tonart Clublounge, Moderation Martin Risel
CD BABY:
Thomas Bracht: unterwegs
YouTube:
unterwegs
HÖRBEISPIELE // TEASER:
Hören // Listen