Sampler: Christmas Crossover — pmt-14-03 (Release: 15.07. (!) 2015)

Fenster zu // Close Window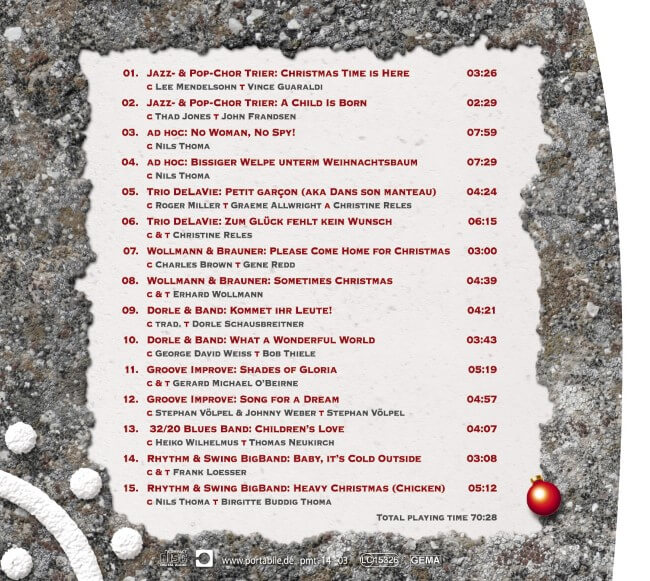 INFO: Weihnachten einmal (musikalisch) anders: Acht Trierer Bands zeigen, dass es nicht immer das weichgespülte X-Mas-Allerlei sein muss, und beleuchten das Thema aus ihrer ganz eigenen Warte. Heraus kommt ein Sampler, den man sich auch nach den Feiertagen zu hören getraut ... // This is another Christmas CD but it is NOT the usual soft X-Mas music: Here, 8 bands tried to give their very own musical statements about the subject.
CD: 15 Tracks · ~70'00'' · Digipak · 4 Seiten // 4 Pages farbig // colour
RECORDING & MIX : Little Swiss Digital Productions, L-Berdorf, Georges Majerus
MASTERING: Mike Butcher, Luxemburg
PRESSWERK // PRESS SHOP: CDA, Suhl
GRAFIK // ARTWORK: Anne Völpel & Birgitte Buddig Thoma
KONZERT MIT LIVE-RECORDING // CONCERT WITH LIVE RECORDING: 13.12.2014, Tufa, Trier Plakat // Poster
PRESSE // PRESS: Trierischer Volksfreund 11.12.2014: Vorankündigung // Announcment · Trierischer Volksfreund 15.12.2014: Rezension Konzert // Review Concert · Trierischer Volksfreund 09.12.2015: CD-Rezension "Wahrlich kein weihnachtliches Gedudel" // CD Review
CD BABY:
Christmas Crossover
HÖRBEISPIELE // TEASER:
Hören // Listen