Wollmann & Brauner: Wrong Side Of Fifty — pmt-14-02 (Release: 19.09.2014)

Fenster zu // Close Window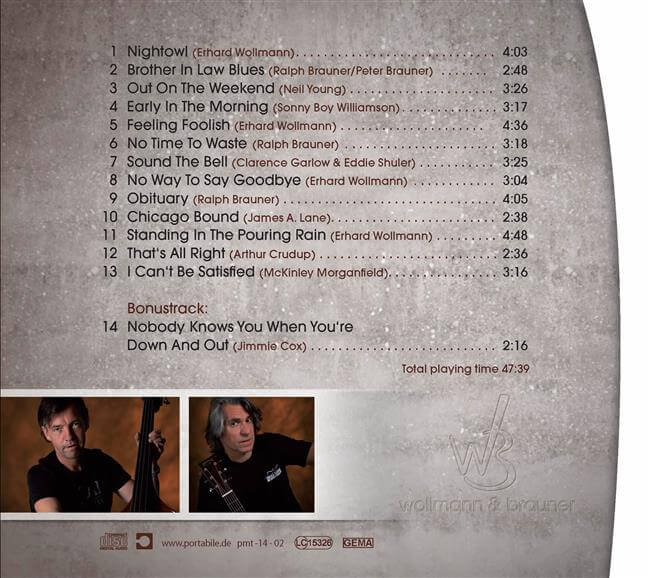 INFO: Hier klopfen die beiden Trierer Blues-Urgesteine Ralph Brauner und Erhard Wollmann heftig an die Türen benachbarter Genres, etwa der Songwriter, und siehe da: Es ward ihnen geöffnet! // This is a CD of two real Bluesmen from Trier knocking on the door of other genres, e.g. the singer-songwriter one — very successfully!
CD: 14 Tracks · ~48'00'' · Digipak · 4 Seiten // 4 Pages farbig // colour
LINEUP: Ralph BRAUNER (voc, g, harp, kb) · Erhard WOLLMANN (b, perc, voc) · Special guest: Chris SIMON (kb)
RECORDING, MIX & MASTERING: TwinMusic, Chris Simon
PRESSWERK // PRESS SHOP: CDA, Suhl
GRAFIK // ARTWORK: Anne Völpel & Birgitte Buddig Thoma
RELEASEKONZERT // RELEASE CONCERT: 04.10.2014, Tufa, Trier
PRESSE // PRESS: Trierischer Volksfreund 01.10.2014: CD-Rezension // CD Review · BluesNews Nr. 80 2012.12: CD-Rezension // CD Review · Blues in Germany 24.02.2015: CD-Rezension // CD Review
RADIO: Feature SWR 1 – Die Szene, 10.01.2015 ⇒ s.u. HÖRBEISPIELE // TEASER
CD BABY:
Wollmann & Brauner WWW
HÖRBEISPIELE // TEASER:
Hören // Listen